Fresh Farm Raised Southern Deep Fried Catfish
Tender Flakey catfish deep-fried in a crispy cornmeal breading, served with a side of creamy tartar sauce.
Served with fresh vegetables or Tony's Homemade Coleslaw, Fresh bread and your choice of Rice, Redskins, or French fries.
Substitute Baked Potato with any Entrée for an extra 1.50
Fresh Fish selections and prices subject to change due to availability.
Fresh Farm Raised Atlantic Grilled Salmon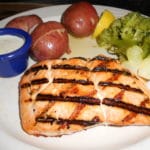 Charbroiled, served with a side of dill sauce.

(Did you know Salmon is the #1 recommended FISH for lowering your cholesterol levels?)
Local Fresh Catch of the Day
Select A Menu
Gift Certificates Available
Gift Certificates are available by calling ahead or visiting the restaurant during regular hours in any increment needed.