Fresh Fish Specials
Because our menu is predominantly handmade from scratch, we can meet most of your Food Allergy requirements.

All Dinners are complete meals served with fresh baked bread, vegetable or Tony's Homemade vinegar based Coleslaw, (substitute asparagus for $1.50) and your choice of rice pilaf, redskin potatoes, or French fries (substitute baked potato with any Entrée for an extra 1.50).
Fresh Farm Raised Southern Catfish
Tender Flakey catfish deep-fried in a crispy cornmeal breading, served with a side of creamy tartar sauce.
Served with fresh vegetables or Tony's Homemade Coleslaw, Fresh bread and your choice of Rice, Redskins, or French fries.
Substitute Baked Potato with any Entrée for an extra 1.50
Fresh Fish selections and prices subject to change due to availability.
Fresh Idaho Trout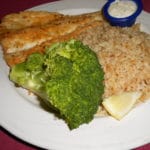 Lightly coated in almonds and seasoned flour and sautéed to a golden brown.
$17.95
$17.95 Substitute baked potato for an extra $1.50 Substitute asparagus for an extra $1.50
Fresh Farm Raised Atlantic Grilled Salmon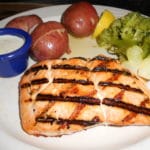 Charbroiled, served with a side of dill sauce.

(Did you know Salmon is the #1 recommended FISH for lowering your cholesterol levels?)
Local Fresh Catch of the Day
Fresh Virginia Sea Scallops and Shrimp Linguini
Sautéed with sun-dried tomatoes, mushrooms, a hint of basil, blended with garlic. Served over a steaming mound of linguini as your starch and topped with parmesan cheese.
Mixed Trio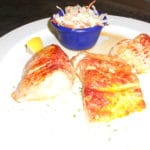 A combination of three fresh fish baked and topped with dill sauce. Ask your server for daily selection.
Fresh Fish selections subject to change due to availability
**Consuming raw or undercooked seafood (tuna, salmon) can increase your risk of food borne illness**
Select A Menu
Gift Certificates Available
Gift Certificates are available by calling ahead or visiting the restaurant during regular hours in any increment needed.