Fresh Fish Specials
Because our menu is predominantly handmade from scratch, we can meet most of your Food Allergy requirements.
All Dinners are complete meals served with fresh baked bread, vegetable or Tony's Homemade vinegar based Coleslaw, (substitute asparagus for $2.00) and your choice of rice pilaf, redskin potatoes, or French fries (substitute baked potato with any Entrée for an extra $2.00).
Trout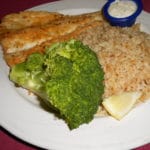 Salmon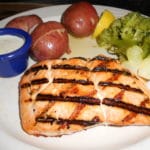 Tuna
Grilled or Blackened (cooked rare to well done)
Flounder
Baked Stuffed Flounder
Stuffed with Crabmeat Imperial and topped with Hollandaise
Admiral Larry Platter
SHELLFISH EXTRAVAGANZA BUILT FOR TWO
Two Maine Lobster Tails, Two Clusters of Snow Crab legs
Fresh Sea Scallops, Steamed Lump Crabmeat, Peel & Eat Shrimp, Steamed Middle Neck Clams,
Cole Slaw, Redskin Potatoes, Mini Corn on the Cob
Garden Salads to start with fresh Bread and Butter
(we don't make substitutions on the Admiral's platter)
Fresh Fish Pricing and availability are subject to change
**Consuming raw or undercooked seafood (tuna, salmon) can increase your risk of food borne illness**
Gift Certificates Available
Gift Certificates are available by calling ahead or visiting the restaurant during regular hours in any increment needed.