Deep Fried Crab Cake
One plump cake filled with jumbo lump crab meat, specially seasoned and coated in bread crumbs,
then fried to a golden brown. (Pan Fried or Deep Fried)
freshly shucked Chesapeake Bay (seasonal)
Deep Fried Oysters
freshly shucked Chesapeake Bay (seasonal)
sautéed, hot & spicy or deep fried
Fresh Sea Scallops
Lightly dusted in seasoned flour and deep fried or sautéed hot and spicy style.
Ancho Mayo French Fries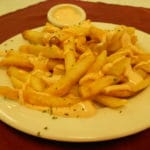 Hearty serving of French fries served with spicy mayonnaise.
Duxelle Stuffed Mushrooms (vegetarian)
Mushroom caps filled with a rich mushroom reduction and cream sauce, topped with melted Jack cheese.
Creamy Crab Dip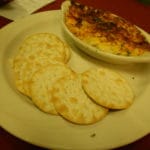 A rich and creamy blend of lump crab meat, cheddar and cream cheese, served with crackers.
Gift Certificates Available
Gift Certificates are available by calling ahead or visiting the restaurant during regular hours in any increment needed.