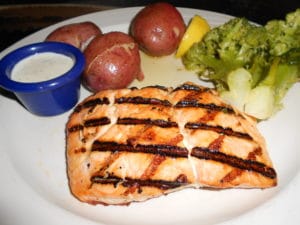 Fresh Farm Raised Atlantic Grilled Salmon
Charbroiled, served with dill sauce.
(Did you know Salmon is the #1 recommended FISH for lowering your cholesterol levels?)
$19.95
Served with fresh vegetables or Tony's Homemade Coleslaw, Fresh bread and your choice of Rice, Redskins, or French fries.
Substitute Baked Potato with any Entrée for an extra 1.50
Fresh Fish selections and prices subject to change due to availability.