Lemon Herb Chicken
Charbroiled boneless chicken breast seasoned with oregano, olive oil, spices and Chablis wine.  Served with fresh vegetable or Tony's Homemade Coleslaw, fresh baked bread and your choice of rice, redskins, or French fries.
Substitute baked potato for an extra $1.50
Substitute asparagus for an extra $1.50
boldly seasoned and flame broiled to your liking
Hand Cut Filet Mignon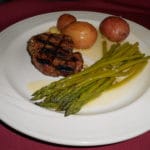 Hand-cut Filet Mignon, boldly seasoned and flamed broiled to your liking.  
Toppings
Teriyaki sauce… $2.25
Hollandaise… $2.25
Béarnaise… $2.25
Norfolk … $6.95
Mushrooms… $2.25
Gift Certificates Available
Gift Certificates are available by calling ahead or visiting the restaurant during regular hours in any increment needed.